What is EC?
An Introduction to Executive Condominium
Homebuyers who enjoy the exclusiveness of a gated community with the convenience of condominium facilities can choose to buy Executive Condominiums, which come with more affordable price tags, compared to other types of private residential properties. Executive condominium (EC) is a hybrid residential property. It is basically a condominium, where buyers must adhere to certain regulations from the Housing & Development Board (HDB) before the EC is fully privatized 10 years after it is completed. EC is built and sold directly by private developers on land parcels sold by the government. Since 1997, the government sold land parcels for EC projects through competitive land tenders. Most EC are quite sizeable, averaging about 500 to 550 units each. Due to the generous size of the development, condominium facilities such as swimming pool, gymnasium, children's playground, private car park and function rooms can be found in EC projects.
The regulations concerning EC state that the buyers must form a family nucleus that include at least one Singaporean and the other family member can be either a Singaporean or Singapore Permanent Resident (SPR). Furthermore, the average gross monthly household income of EC buyers must not exceed $16,000. Additionally, EC homeowners can only sell to Singaporean or SPRs or rent out the whole unit after a minimum occupancy period (MOP) of five years. Ten years after the EC is completed, it will be fully privatized and the units can be sold to foreigners. Those who wish to take up a housing loan to purchase their EC unit are subjected to both the Mortgage Servicing Ratio (MSR) and Total Debt Servicing Ratio (TDSR). Under the MSR regulation, borrowers can only use 30% of their gross monthly income for all property loans. Additionally, the TDSR states that the borrower can only use up to 60% of their gross monthly income to service all their outstanding loans, including car loan, credit card loan and housing mortgage.
Fees and Payment Structure
Homebuyers are required to pay a resale levy when buying a new EC, if they had previously bought a subsidized HDB Build-To-Order flat or received a CPF Housing Grant. The amount of levy payable varies according to the first subsidized housing type bought by the EC buyer.
Table 1: Resale levy for different housing types
First Subsidised Housing Type

Resale Levy Amount

Households
Single Grant recipients
2 Room Flat
$15,000
$7,500
3 Room Flat
$30,000
$15,000
4 Room Flat
$40,000
$20,000
5 Room Flat
$45,000
$22,500
Executive Flat
$50,000
$25,000
Executive Condominium
$55,000
Not applicable
Source: Housing Development Board
Benefits of Executive Condominium
Despite the restrictions imposed on homebuyers, there are certain benefits that make EC an attractive property type for homebuyers, especially first-time homebuyers. Firstly, the prices of EC are lower than private condominiums. Secondly, the EC buyer could enjoy the comfort and prestige of living in a condominium. Thirdly, when the EC owner sell their unit in the future, there is a high likelihood that they can enjoy a capital gain as the EC is progressively privatized. In addition, the Deferred Payment Scheme is available as one of the financing options for new ECs. Under this scheme, buyers only need to put down 20% of the property price as the down-payment and pay the rest of the amount when they receive the keys to their units.
Analysis of Executive Condominium Price Trend
The median prices of new ECs remained stable for most of 1996 to 2006, ranging between $350 and $450 per square foot (psf). From 4Q 2006 to end-2010, the median prices of new EC increased 85.4% to about $750 psf. This was followed by a 7-year plateau from 2011 to 2017 when median prices hovered within a range of $700 to $825 psf. The period of price stability ended with three years of robust growth when the EC median prices jumped 41.9% from $793 psf in 4Q 2017 to $1,125 psf in the last quarter of 2020. In the 14-year period from 4Q 2006 when EC prices started to increase significantly, to the end of 2020, the median prices of new EC increased by an astonishing 178.5%. Over the same period, the private residential non-landed property price index increased 63.8%. The EC price growth was driven by similar factors that increased the prices of private residential properties, such as stable economic growth, increasing household income and positive market sentiments. In addition, the government had raised the eligibility income ceiling for EC buyers thrice in the past decade. Each time that the eligibility income ceiling of EC buyers is raised, the pool of eligible buyers of EC increases, leading to higher demand for EC. Furthermore, the price of EC was also influenced by the prices of mass-market condominiums, which had also increased since 2004.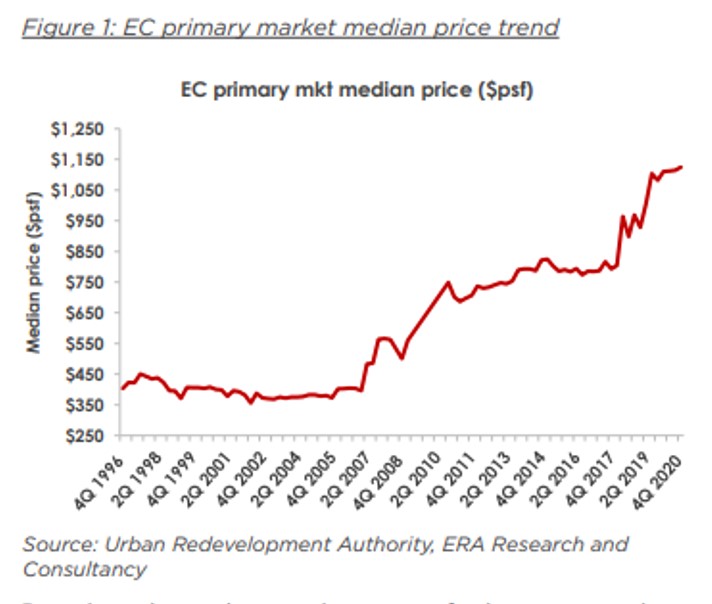 Despite the adverse impact of the coronavirus pandemic in 2020, the median transacted prices of new EC ended the year with a 4.0% year-on-year (yoy) increase in 4Q 2020. However, the price growth in 2020 was relatively mild compared to the 11.7% yoy jump in EC prices in the preceding year.
The current range of prices and sizes of a typical 3-bedroom EC units
Table 2: EC projects currently in the primary market
| | | | | |
| --- | --- | --- | --- | --- |
| Name Of EC | Location | Launch year | Floor area (sqft) | Transacted price* (SGD) |
| OLA | Anchorvale Crescent | 2020 | 926 - 947 | $925,000 - $1,187,000 |
| Parc Canberra | Canberra Walk | 2020 | 883 - 1,109 | $927,000 - $1,679,000 |
| Piermont Grand | Sumang Walk | 2019 | 840 - 1,001 | $888,000 - $1,134,700 |
*Note: Price range of EC units transacted from date of launch to Dec-2020
Source: Urban Redevelopment Authority, ERA Research and Consultancy
Executive Condominium Primary Market Sales
Despite the pandemic and economic recession in 2020, the EC market held up relatively well in terms of prices and sales. Based on preliminary figures, real estate developers sold about 955 uncompleted EC units in 2020, more than the 822 and 492 uncompleted EC units sold in 2018 and 2019 respectively. The healthy demand for EC was partly contributed by the buoyant HDB resale market where the rising public housing resale prices increased the financial ability of HDB flat owners to upgrade to EC or private residential properties. At the same time, the rising prices of HDB resale flats casted a favourable light on EC as the latter appeared increasingly more affordable. In addition, the average prices of mass-market condominiums had also increased steadily in 2019 and 2020. As a result, EC attracted more buyers from the "sandwich class", which referred to homebuyers who aspired to buy private housing but could not afford to do so. When the EC sales volume was analysed over a longer time period, the developers' sales in 2020 was weaker than earlier years as the 955 EC units sold last year was only 39% of the 5-year annual average sales of 2,440 EC units from 2015 to 2019. The relatively lower sales in 2020 was partly due to the declining stock of available EC units for sale.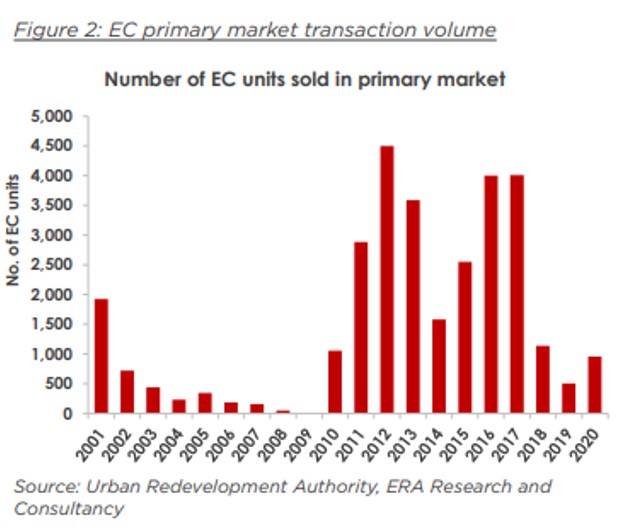 In 2020, two EC projects, namely Parc Canberra and Ola, with 1,044 units in total were launched for sale. However, they could not reverse the trend of EC inventory shrinking. The number of launched and unsold EC units decreased steadily over the past five years from the peak of 3,572 units in 4Q 2015 to 556 units in 4Q 2020. As a result, some homebuyers who could not find any new EC projects for sale in the location of their choice would turn to other form of housing.
Effects of Cooling Measures on EC Market
The new round of property market cooling measures introduced by the government in July 2018 also affected the demand for EC. Based on the average rate of sales of the three EC projects launched before the 2018 cooling measures, namely Rivercove Residences, Hundred Palms Residences and iNz Residence, an average of 84.3% of the total units in these three projects were sold 3 months after their respective launches.
After the 2018 market intervention by the government, developers launched three new EC projects in 2019 and 2020, namely Piermont Grand, Parc Canberra and Ola. The average rate of sales of these three EC projects three months after their respective launch was 52.5% of the total units in each of these EC developments. The average rate of sales after the cooling measures was significantly lower than that of the earlier EC launches. Hence, the tighter property market curbs slowed down the demand for EC.
Outlook and Price Analysis
Five new EC developments with about 2,800 units in total could be launched in the next three years. The first EC project to be launched in 2021 will be the 700-unit Parc Central Residences. It will be followed by Provence Residence which is located at Canberra Crescent. The prices of four of the five EC projects at which the developers acquired the land varied within a narrow range of $555 to $578 per square foot per plot ratio (psf ppr), which were similar to the range of land prices of the three EC projects that are currently on sale in the market, namely Piermont Grand, Parc Canberra and Ola.
Table 3: Upcoming EC project launches
| | | | | | |
| --- | --- | --- | --- | --- | --- |
| Name Of EC | Location | Postal district | Potential No. of units | Possible launch date | Land rate ($psf ppr) |
| Parc Central Residences | Tampines Avenue 5 | 18 | 700 | 1Q 2021 | $578 |
| Provence Residence | Canberra Crescent | 27 | 413 | 2H 2021 | $566 |
| N.A. | Fernvale Lane | 28 | 480 | 1H 2022 | $555 |
| N.A. | Yishun Avenue 9 | 27 | 600 | 2H 2022 | $576 |
| N.A. | Tengah Garden Walk | 23 | 620 | 1H 2023 | N.A. |
Source: Urban Redevelopment Authority, ERA Research and Consultancy
Table 4: Launched EC projects available for sale
| | | | | | |
| --- | --- | --- | --- | --- | --- |
| Name Of EC | Location | Postal district | Total No. of units | % of total units sold* | Land rate ($psf ppr) |
| Piermont Grand | Sumang Walk | 19 | 820 | 81% | $583 |
| Parc Canberra | Canberra Link | 27 | 496 | 87% | $558 |
| Ola | Anchorvale Crescent | 19 | 548 | 38% | $576 |
*Note: Number of EC units sold as at November 2020
Source: Urban Redevelopment Authority, ERA Research and Consultancy
The average land price for Piermont Grand, Parc Canberra and Ola is $572 psf ppr, which is the same as the average $572 psf ppr land price for the upcoming Parc Central Residences and Provence Residence EC projects. However, rising development costs due to the Covid-19 pandemic could pressure the developers to launch the new EC projects at higher prices. The pandemic is causing bottlenecks in the construction supply chain, which leads to higher costs in some cases. In addition, the Covid-related safety measures expected to be implemented for construction workers would also add to the development costs. As a result, the median prices of the upcoming EC projects to be launched in 2021 and 2022 are unlikely to be lower than the current price of $1,114 psf transacted at the three launched EC projects. Therefore, homebuyers who are waiting for prices of new EC to decline due to the pandemic would be waiting in vain.
Read more on…
SHOULD YOU SELL YOUR HDB NOW ? - 2021
Why Sell Private Home Now ? -2021
What should homeowners buy after selling their HDB or Private Homes?